We had a big weekend! The most important for me was celebrating Ty's birthday, but there were lots of other fun events peppered in!
On Friday, Justin took the kids to his brother's for a cookout and I got to sneak away for a much needed girl's night out at my friend's house. We did pizza and Magic Mike night. SO FUN. And such a great way to relax before the storm of Saturday!
My sister just moved into her new place and had a little housewarming brunch for the family on Saturday morning. She does such a great job decorating and her brunch was DELISH! She made egg boats, lox on bagels, fruit salad, and chocolate and almond croissants. She's such a good host!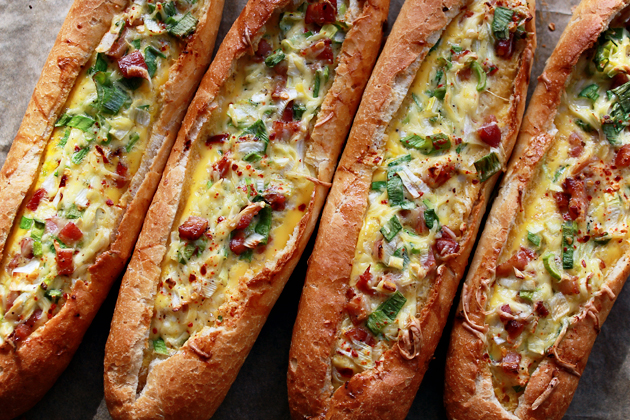 baked egg boats
After Ty and Elena got a good nap and Justin and I loaded the car with Spider-Man paper products, cupcakes, and juice boxes, we put on our Spider-Man shirts and headed to Ty's party at Gymcarolina! This was such a dream for him and I will share details of the party tomorrow! Here is our little family in our shirts though!
After Ty's party and opening presents, Justin and I met friends downtown for one of my bestie's 30th birthday dinner! We ate dinner at
The Pit
and topped off dinner with coffee and drinks at
Bittersweet
. We had never been to Bittersweet before, but it was a cool little coffee, cocktail, and dessert bar downtown. We had such a good time celebrating her 30th birthday and having some adult time after a day filled with Ty's birthday fun!
Sunday was Ty's actual birthday so after church we went to Frank and Erin's to drop Elena off and Justin and I took Ty to his first real movie! We saw Zootopia! Ty loved it! He said he liked the bunny and the fox. But most of all, he loved his M&M's and slurpee. He guzzled it down!
After the movie, we topped off the birthday weekend with Mexican food with Frank, Erin, and Callan. I would've totally gotten a picture of the kids eating their quesadillas, but reality is we tried to take four toddlers to dinner after a weekend of late nights and partying. You can imagine the struggle... and it was REAL. Needless to say, we didn't even make it home before our kids fell asleep. But Ty was able to Facetime Markie and Grey before bed.
We all had such a fantastic weekend, but now that it's over I have a mountain of laundry to wash and an empty fridge to stock. Good thing Ty and Elena have a load of new toys to explore!