Being that this is my most favorite time of year, there are so many traditions that we have. I just wanted to share a few that we have adopted since becoming parents and seem to make this time of year a little more magical.
Once Justin and I started having children, we wanted to make Christmas Eve special, but wanted to save most of the Christmas presents for Christmas morning. Christmas Eve Boxes are becoming such a popular trend on Pinterest and you can personalize them for your kids however you want! In our boxes:
-Christmas PJ's
-a new tree ornament
-a book
-a movie for the family
I love this tradition! It kicks off Christmas and gives the kids something to open, as well as some cute new jammies to wake up in and see what Santa brought.
Simple? Yes. But in my eyes, what an awesome tradition. This is one that I did not do growing up (trust me though, I was not lacking!) but I think is such a great way to mark each year and something big that happened. My plan is to give the kids each a new ornament of something that's meant something to then throughout the year, then when they move out and have their own families, give them their collection of ornaments. Hopefully they will tell their kids stories about their childhood with each ornament that goes on their trees.
For the final 12 days before Christmas I have my kids open up one wrapped book about Christmas to read at bedtime. This does not have to be an expensive tradition (and in our house it isn't!) Every few months there is a Dollar Book Exchange at a local warehouse where I can buy a huge bag full of used books for $10. One trip of digging through boxes of used books and I have all 12 days, as well as a stash of other books for my kids. Easy and a way to build their love of literature!
25 days of Christmas Surprises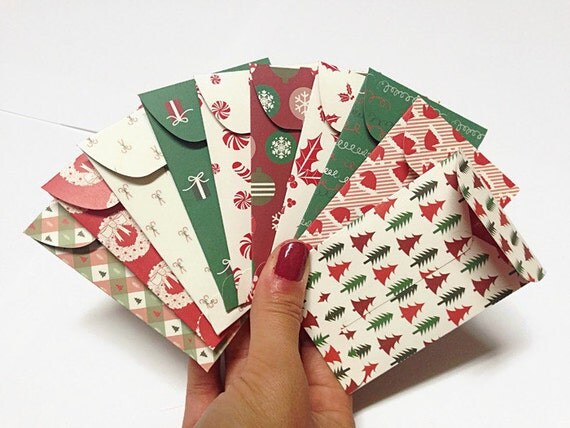 Another brilliant idea by my friend, Lori. Beginning December 1st, my family opens up a card that is an activity for the family or a special card for my husband. It could be anything from a compliment, to "Drive around and look at Christmas lights," or "Family Game Night." You can get these cute envelopes from
CrKreationsUSA on Etsy
.
Give Jesus a birthday gift
This one is exactly what it seems to be. I want my kids to always remember the true meaning of the season, so I have them make Jesus a birthday gift and on Christmas morning they give it to baby Jesus at our Nativity. It is so special to see what they create for baby Jesus.
Something They Want, Something They Need, Something To Wear, Something To Read
In an effort to stay in control of the Christmas presents, my hubby and I go by this rule of thumb when buying presents for our kids. It is so hard to not buy our kids the whole wide world, but I think there is something to be learned about the true meaning of Christmas and how to truly be grateful for the things you have. I've found that this gives me a good guideline on what to get my kids for Christmas while still making the meaning of Christmas about the birth of Jesus and the spirit of giving, not always getting!
What are some great Christmas traditions you do with your family and friends?